LA MARMOTTE
The Marmotte is one of the toughest sportives around, covering 174 kilometres with 5000 metres of climbing. It starts at Bourg d'Oisans and finishes at Alpe d'Huez. The event takes place in the first or second weekend of July. Entries typically go on sale in the first week of November. See here for entry availability.
We offer a catered package in the lead up to the race, so if you are looking for La Marmotte accommodation please get in touch! Also, once you have secured a place in the event we would also be happy to host your cycle training camp as final preparation for the big event.
GRAND FONDO LES 2 ALPES
A lesser known sportive of the area takes place at the end of August each year, and starts and ends at the resort of Les 2 Alpes. There are various events available, a "Rando" of 50 kilometres (untimed), a "Senior" 70 kilometre route with 2400 metres of climbing and the "Master" route of 164 kilometres with 4200 metres. This mixture of routes is great for friends and families of differing abilities who all want to have a try at an alpine sportive.
See here for a map of the routes and entry availability.
LA VAUJANY SPORTIVE
An extremely popular event locally is La Vaujany, which again has several courses tailored to different abilities. The main event is 173 kilometres with 4500 metres of climbing and takes in Col de la Morte, Col du Ornon and Col du Sarenne via Alpe d'Huez.
For those who want even more of a challenge than a single alpine sportive offers, why not combine the La Vaujany sportive, held at the end of June, with the Marmotte, as both are typically held on consecutive weekends. See here for maps of the La Vaujany routes and entry availability.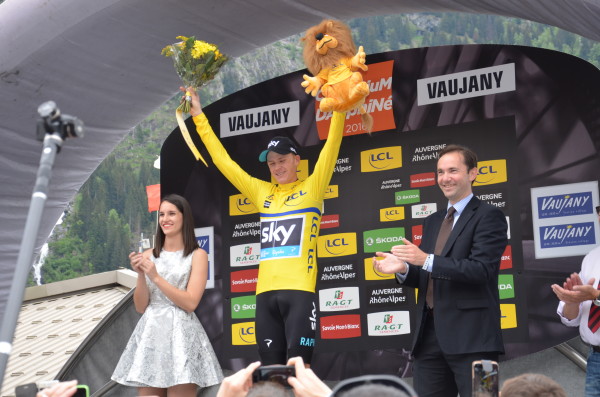 THE OISANS TIMTOO CHALLENGE
There are Timtoo timed routes throughout France, Italy and Switzerland. To time yourself using Timtoo, you need to either buy or rent a Timtoo chip (available from various locations including the Bourg d'Oisans tourist office and the Cycles et Sports shop in Bourg d'Oisans). You then just need to cycle between the start and finish signs on your chosen route to record your timed ride, which will be visible on the Internet, where you can compare your time in the overall rankings. Various Timtoo rides within the Oisans include the Alpe d'Huez ascent, and all the mountain passes. See here for more details.
There is also a weekly organised timing event of the Alpe d'Huez ascent from 10am every Wednesday from July 1st to August 26th. See here for more details.
Similarly for the climb from the Oz village to the resort of Oz-en-Oisans, the road is closed every Wednesday in July and August from 10am for its organised timing event. See here for details.
OISANS COL SERIES
Every Tuesday morning in July and August, a different col will be closed to road traffic, so that they can be cycled free of motor vehicles. A timetable of when the different routes are closed is here.
ALPE D'HUZES
The Alpe d'Huzes is a Dutch charity event that takes place in the first week of June each year. The aim is to cycle up and down Alpe d'Huez up to six times and all money raised goes to a Dutch cancer charity. A great family event and a great way to start the summer cycling season in the Oisans.
If you are looking for Alpe d'Huzes accommodation (or should we say Alpe d'Huzes accommodatie) please get in touch!
L'ALPE D'AURIS
This is currently a small local sportive, covering 50 kilometres with 2000 metres of climbing. It ascends Alpe d'Huez, descends Col du Sarenne before climbing up to Auris, to the east of Alpe d'Huez. In 2015, it is being held on August 8th. More details here.