Travelling to Chalet Morville
By Air
During the winter flights are available from the UK to the following airports:
Grenoble Isere, our closest and the most convenient airport is 1 hour 30 minutes away
Chambery airport is also an option and is 1 hour 45 minutes away
Lyon St Exupery airport operates all year round with short and long haul flights and is 2 hours away
Geneva airport is 2 ½ – 3 hours away and is an international hub airport
Airlines flying from UK airports to these locations include Easyjet, Ryanair, British Airways and Jet 2. For a full list of the operating airlines, click on the links below for each airport:
By Car
Driving to Venosc whether winter or summer gives you a freedom to travel at your own pace and for the summer is a great option for getting out and exploring the beautiful local Ecrins National Park and the stunning mountain scenery. Driving from Calais is around 8 to 10 hours depending on stops or 580 miles (935km) the vast majority of which is on the French Autoroutes which are generally free flowing with numerous rest areas and services.
Car hire is available from all the airports and also from Grenoble train station. It's also worth noting that diesel fuel is significantly cheaper in France than in the UK. With parking at the chalet for two cars and additional parking close by driving can be a great choice
Driving Directions:
From Grenoble on the A480 take Junction 8 signposted Station d'Oisans, Vizille and Briancon. Follow the road to Vizille and turn right at the large roundabout onto the D1091 towards Bourg d'Oisans and Briancon. On approaching Bourg d'Oisans there is a large roundabout with a giant sculpture of a cyclist. Take the third exit onto the bypass around Bourg d'Oisans again signposted to Briancon. At the next roundabout take the 2nd exit signposted to Les Deux Alpes and Briancon. After following this straight road for 5km there is a junction to the right on a sharp left hand bend. There is a large electronic sign here as well as a signpost for Venosc, St Christophe & La Berade. Follow this road up the valley for 8km. After passing under a large rock overhang on the left, there is a turning on the left to Venosc after about half a kilometre (if you reach the Telecabine you've gone to far). Follow the road up five hairpins avoiding going into the centre of the (pedestrianised) village and instead following the signs for the church. The chalet is located past the fifth hairpin on the left hand side. It is not really possible to get onto the chalet drive when coming up the hill from the village. Instead drive 100 metres past the chalet to an additional parking area where you can turn round and then approach the chalet from above which is far easier.
IMPORTANT INFORMATION FOR GARMIN USERS: The Garmin traffic data for the D1091 road from Vizille to Bourg d'OIsans is out of date and has this road as closed. It will try and reroute you over the Col d'Ornon which is a lengthy diversion and can be a tricky drive in the winter and also potentially closed due to snow.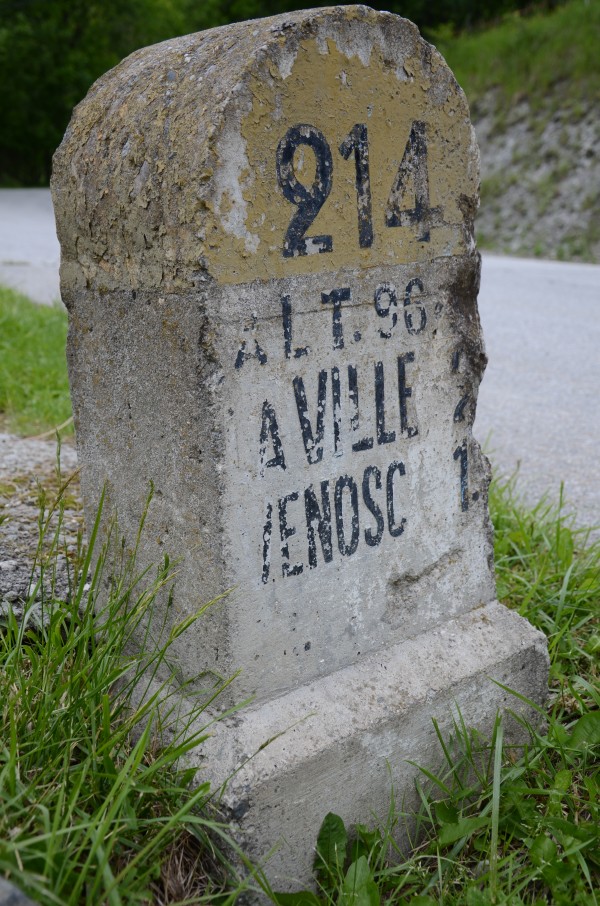 Driving in France & Winter in the Alps – As well as remembering the French drive on the right, you should also remember to bring your driving licence, passport, insurance documents and proof of ownership (V5 document) with you. Additionally you should carry a warning triangle, hi viz vest, spare bulbs and have headlight beam converters and a GB sticker on the car. More useful details can be found here:
If driving over in the winter, it is quite possible that you will encounter snow on your journey as you near the Alps. It is well worth considering winter tyres as well snow chains. We do get snow regularly in Venosc and although the roads get cleared very quickly, and we have winter tyres on our vehicles, we do occasionally resort to chains.
By Train
Our closest train station is Grenoble. Eurostar services can be used to travel from the UK to Paris, and then from Paris to Grenoble on a TGV.  This does require a station change in Paris (Gare de Nord to Gare de Lyon). Car hire and local coaches are available directly adjacent to Grenoble station and the drive to Venosc is around one hour.
As of 2015 a new direct Eurostar route from London to Lyon is available, cutting train journey times to less than 5 hours. If picking up a hire car in Lyon, travel time from Lyon to Venosc is about 2 hours. Otherwise a local train connection could be made from Lyon to Grenoble.
By Bus or Minibus
For private airport transfers we recommend Lee and Kirsten at Alpventure, a local British-owned transfer company:

We also recommend Chairlift another British-owned transfer company run by Guy.
Ben's Bus are a UK company who offer low cost ski transfers from Grenoble airport and can drop you in Bourg d'Oisans where we can pick you up for a short 15 minute transfer back to the chalet.